Band-Aid
September 27, 2009
I scraped my knee,
One summer morning,
When I fell,
Off my bike.
You help out your hand,
And I took it,
Because I trusted you,
And your hand was so big,
And warm.
You led me inside,
And sat me down,
And told me,
That I would be fine.
You got a box,
And pulled out,
A Band-Aid,
And suddenly,
It was all better.

You're crying,
And my world,
Is falling apart,
Because your hand,
Was always so big,
And warm,
And you made it all better,
And now,
I don't know how to help.
So I go to the cabinet,
And I get a box,
And pull out a Band-Aid,
And I stare at it.
I peel the plastic off,
And carefully,
So carefully,
Stick it,
To your arm.

You stared at it,
And I stared at you.
You looked at me,
And I looked at,
The Band-Aid,
Willing it,
To make it better.
And suddenly,
You laughed,
Happily.
Because the Band-Aid,
On your arm,
Was nothing.
But the one,
On your heart,
Made everything better.
So don't cry,
Okay, Mom?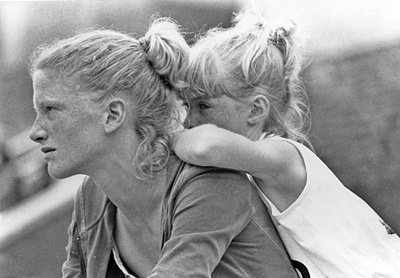 © Felicia F, Marlow, OK