"Love"
September 30, 2009
Why must every day's worry and strife
be headed by the distance we face?
We may be close, but it feels so far,
too far, I can't put my thoughts in place.
They're jumbled together like knotted-up string.
I'm so confused about my feelings for you.
My mind goes one way, my heart another.
It's tearing me apart; what should I do?
I can't say "I love you," I can't, I won't.
I refuse to believe in this thing called "Love."
But my feelings, so strong, are so confusing.
What other feeling could I be thinking of?
The word runs and runs through my brain
over and over; it just won't quit.
But "Love" is so stupid, it drives me insane.
I'm really starting to get tired of it.
But the word still remains, running and running
shouting and screaming so I can't ignore.
Something kicks in, a realization,
and my dumb old beliefs just fly out the door.
The "Love" bug has bitten, and arrow has hit.
Cupid hit his mark and my heart it brand new.
Now there are only three words to describe it,
And those three words are:
I LOVE YOU.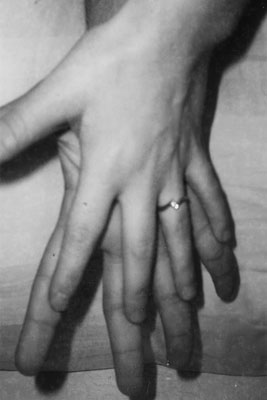 © Heather H., Phoenix, AZ