What My Twin Sister Told Me
October 10, 2009
That the food here was crap
That the nurses were patronizing and mean
That the TV barely worked

(and only had a VCR player)
That she was cold and needed another blanket

That they'd said she had another tumour yesterday
That she guessed she'd last another week,

at least
That she wondered if she'd ever see the sun again
That she missed having hair

(and she laughed a little)

That I had to feed her fish every day

after breakfast
That the pink patchwork quilt I'd always said I loved

I could have now, if I wanted
That I had to tell that boy she loved

that she'd loved him all along

That she felt sick and weak all the time, constantly nauseous and tired
That she thought she'd never have the strength (or the motivation)

to rise again
That she knew I was scared for her, but that she wasn't afraid of cancer,

or of dying
That she was sure dying was just another obstacle to overcome in order to get to heaven

That I had to tell Mom and Dad and Katy how much she loved them
That she was, maybe, a little afraid

(and a tear dripped down her gaunt, ashen cheek)
That she missed life, but knew she had to be brave
That she loved me more than anything or anyone,

and that I had to live on for her
That she had to say goodbye now. . . .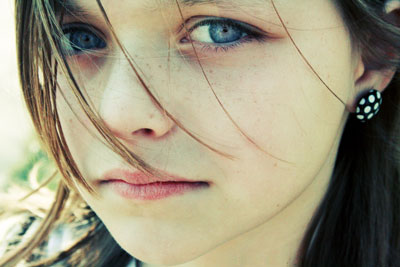 © Felicia R., Arlington Heights, IL