Winter Falls as Summer Springs
October 24, 2009
In the Fall we drifted like colored leaves,
Our bodies cast echoes on foggy sidewalks,
The days grew shorter as did our lives.
I dreamed of change and jolted rains,
The summer had made us jaded.

Thousands of leaves lie forgotten
On badly paved roads
Hundreds of dreams rest unspoken
Drowning in gasoline spills,
They were tokens of our love.

Soon you grew cold,
You covered your emotions with torrential winds,
Swore delicately on snowflakes,
Your teeth hurt like frostbite.
My world was covered in your distance,
Slipping on ice
Falling on
Cracking on
Pavement.

The moon was my hope.

Slowly worlds began to melt,
As they swirled together,
The edges receded and flew like water,
Trees dripped with happy rain,
The sun's touch exploded over forgotten places,
Long days twisted sadly into shorter nights.

Soon the universe was on fire,
As if God had stroked a match,
Fireflies lit my nights.
Cicadas hummed at dusk,
An endless background noise that reflected peace,
Pieces of days twisted together,
Piano notes receded softly,
Slowing in intensity,
Fostering the setting sun,
I drowned in light.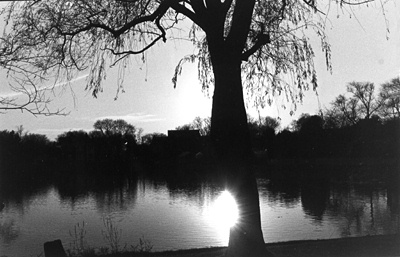 © Chuck K., Marblehead, MA