Rainbow Through the Trees
November 6, 2009
Standing under the tress,
Hiding from his presence
The sky got covered by clouds.
Faster than the sun could push them away.
The rain started to fall,
So gentle then so violent.
He ran toward my way, without knowing.
Hiding under the giant maple tree.
I come out from behind the trunk as he turned around.
I kept my head down,
I was afraid to see his face.
He mumbled something under his breath.
But then said it louder to me.
I felt like fainting.
He looked at me, waiting for a reply.
I gave him one, stuttering.
What a fool I was to be so nervous.
Just then, a cold drop of rain went down my back
And I yelped out in shock.
He gave me a confused look and began to laugh.
But then one hit him straight on the head.
I couldn't help but giggle.
Both of us then ran out from under that tree
And danced in the rain
While everyone remained hidden.
Laughing we stopped and looked at each other.
His eyes were deep with thrill and cold.
I was entranced and happy.
The sky parted, sunlight broke through.
Leaving a rainbow.
It trickled color through the tress and hit us perfectly.
Just like a couple dancing.
In a rainbow spotlight.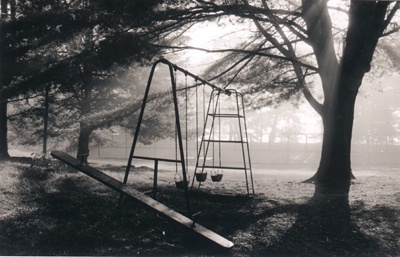 © Steve S., Marblehead, MA