Undead
November 15, 2009
I kneel before your gravestone
The edge of the marble cutting into my knees
Cold damp grass below my shins
Toes numb from how long I've been here like this

Gray overcast sky above my head
Rain barely falling on my shoulders
Cold air stings my lips as I inhale

My hands tightly clasped together
Head bent over my knees
Eyes can't even keep shut
Tears escape too quickly to conceal body trembles as sobs echo thru my body

You can't be dead! I silently scream
Laughter, smiles, sweet words, every good thing
Gone, all of it gone, your gone
None of this is real, none of it
I'm in your arms for a short embrace
Your body is as cold as ice
I can smell the poison on your lips
Your eyes are red, and your skin is gray
Smiles have eluded your face
Your words are not your words
Even your voice isn't the same

Tell me now, speak to me
Answer me, why have you died?
Your body before me, your heart
Still, just barely beating enough
This isn't you! This stranger
That stands before me
This isn't the person I love
Where have you hidden yourself?
Where are you!

Kneeling there mourning over
Your imaginary head stone
Weeping for the person, that
I love, care for, hold in my heart and miss…
The person that I lost and will never have back
The person I love with my whole heart
The person who died.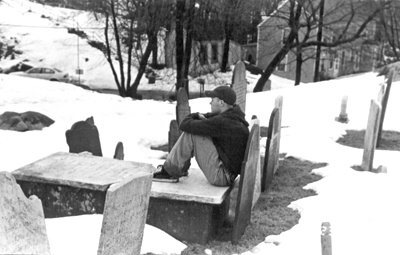 © Matt B., Marblehead, MA