The Moon and Her Tears
December 28, 2009
It's freezing outside,
Literally.
The sky's hardened tears
Freeze on the black skin
Of the town roads.

When I was little
I asked my daddy why it was
So cold
And he said
That

The moon was sad
And angry;
She was crying.
The coldness of her heart
Turned the tears to snow.

I wondered what
Could have
Upset the moon to
Such an extent, but I knew
Her heart was broken.

I could feel it in
The way the wind
Bit my nose to a dark red,
And the way it stung my eyes
So that water would drip from them.

I wanted to weep with the moon
And cuddle her in my sleep
So that maybe, my childlike
Innocence
Would take the hurt away.

I didn't know then
What I know now,
Though the night's magic
Never ceases to appease
My curious mind.

But that night the wind stopped as
Suddenly as it began.
The air turned calm in the
Cloudless sky,
and

The moon was happy
Once again.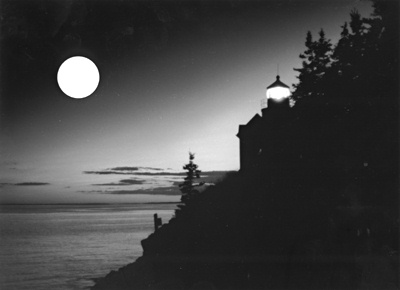 © Steve S., Marblehead, MA