Ode to Silence
January 19, 2010
In the calm, only one raindrop has fallen,
And surges in spreading ripples
At the bottom of the well.
This freezing wind that rocks
The wind-tossed forest of my heart
Is only stilled by silence.

A black-and-white picture of the sky
Filled with your mute strength;
Silent snowfall,
Perfect in the darkness,
White breath clouding without sound:
In a world made of noise,
Half-drowned in pandemonium,
You are my sanctuary.

With your tranquility,
Please bring back that peaceful time,
To my wind-tossed heart
We are sinking in the sea of sound,
The silence born of noise.

Sweet serenity, the stillness of the mind
But not the cessation of thought,
Stepping on the shadow
Of crimson chaos;
In this race for higher ground,
Fighting the passage of time,
You hold the key to our peace of heart.

By your hand,
The tapestry of noise is unraveled;
This knot of garish strings,
Connecting every person
With six degrees of separation.
Unwoven, undone,
We fall apart in perfect silence,
Though the tranquil, solitary sky
Connects all the pieces of this world.

Prayers of light, carried on noiselessness—
Shatter, darkened horizon, and let the night's calm
Fill the land once more.
Silence, like a stark reverie
Against the backdrop this frenzied world,
You hold every color of my dreams.

Humans cannot exist alone,
But our noise
Will bring pain until end.
Not speaking, we see so much more
Of light,
Of darkness.
Bear up the world on your shoulders, silence,
And return us all to our mirror-tinted innocence.

The darkness holds the silence of the world,
For light is garish, rejecting quiet,
And filled with the quicksilver emptiness
That is life.
Hold up your transparent, wraithlike hands
To shield us from the raucous sound of rain.

Pass beyond the need for sound,
Where your voice is frozen in your throat,
As though some phantom hand
Has choked it off,
And every breath trembles
With the longing for sound.

Silence is much kinder
Than the grating rush of noise
That floods our senses in this base world.
Silence, you carry in your stillness
The perfection of eternity.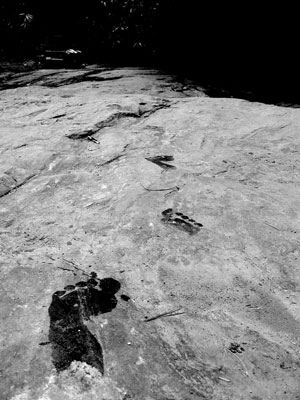 © Michelle B., Blairsville, GA