Just Some Last Thoughts
MAG
January 16, 2010
Thirty-two dusty flowers
three old cassette tapes
a dozen four-leaf clovers
one tragic memoir
and a smattering of faded photographs
stand tribute to you.
I stare fixedly
trying to see
past the earth
I helped to shovel.
I struggle to imagine
those random articles,
the remains
of your cut-off life,
reflecting you.
Yet again
I wonder
how those haphazard items
connect to the person I knew.
The man
who taught me old Yiddish songs
way off-key
who made fries
out of apples
and could spin a story
on the spot.
I wonder
how you
who always found a smile
could have had
such an awful life
for so many years back then.
And what could
those old photos say
about you?
You, who loved the spotlight
but scorned cameras.
I cannot connect the pieces.
I suppose
to me
you will always be two people:
The man who survived
the Holocaust
and struggled to find
the gold-paved roads
promised to him.
And my pop-pop.
I can see your old
worn-felt hat
and taste
your cinnamon toast
on my tongue
even now.
I place a pebble
on your headstone
and hurry away
so you won't see me cry.
Off you go now.
I hope angels
have an ear
for off-key Yiddish.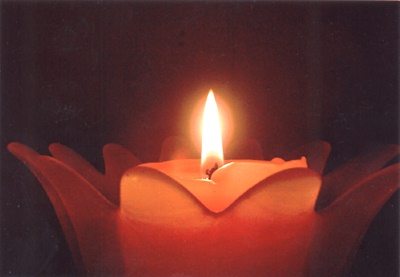 © Sayda C., No. Bergen, NJ