Curtain Call
February 7, 2010
You're backstage now.
You can no longer hide behind
your lank tiger-stripe bangs,
your eyes pathetic pools
of self-pitying tears
that you cried alone in your room
amid crumpled Kleenex
and empty chip bags.

You're in the spotlight now.
The fluorescent blue
will cast shadows
under your stabbing cheekbones
and will shine
on the oily pimples
that crust your forehead.

The curtain's opening now.
Have you rehearsed,
practiced every word
down to its every syllables and cadence?
Did you peek through
the heavy crimson drapes
to see
the thousands of shadowed faces
in the glare of the lights?

You're on stage now.
Don't forget your lines.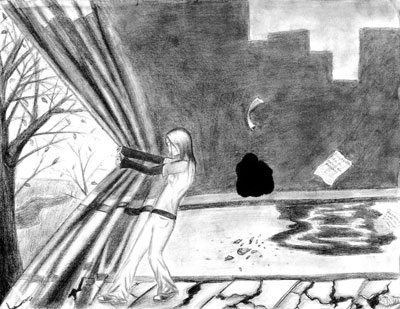 © Willow L., Nevada, IA