Miles To Go
February 22, 2010
Four A.M.
Hop in the car,
Within a few hours,
You're stuck in rush hour.
Escape the big city chaos,
And enter a blank world,
Of cactus,
Rocks,
And distant purple hills

Discovering contentment
In the simplest things,
Like counting the dotted
Lines on the pavement,
And playing "I Spy"
With the voices in your head

Drive over a dam,
And wave to the tourists.
Travel through a city
Of signs,
"Slot Machines Here"
"Casino"
"Viva Las Vegas"

Far away from
Talking billboards,
Enter yet another state,
This one is a bit more familiar,
Not home yet,
But getting closer,
Half way there

Still headed north
The heat becomes rain,
And the world turns grey,
Watch the raindrops
As they dance across your window,
They're listening to the radio

The rain turns to snow,
And vision is now fogged,
While staring out the window
Mom says to you,
"Only a few more hours."
You're on an endless road of ice

15 hours from where you began,
After the countless
Food and bathroom breaks,
You arrive in the darkness,
Home sweet home.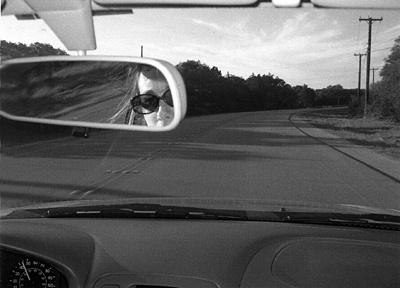 © Roxanne D., San Antonio, TX