Digging Through the Darkness
MAG
April 2, 2010
Quietly,
I lean against the bristly fabric
your armchair has to offer,
silently sweating off the pounds of make-up
covering my stress lines, my bruises,
my fears.

You poke and prod at me,
trying to figure me out like a puzzle,
trying to force me to let you
swim through the black waters
that bathe my thoughts in darkness,
not yet realizing that you would drown
in its misery the second
you dipped your pale toes in it.

Timidly I shake my head,
refusing to say a word,
the effect of your everlasting glare
falling apart as your glasses slip down your crooked nose.

Further, I shrug back into
the crevice of your chair,
nails clawing nervously
at my forearms buried
in the warmth of my hoodie.

You drop your gaze and stare down
at the blank page in your notebook
and smugly, my grin widens knowing
you will walk away empty-handed,
no matter how lengthy a time
you trap me within these colorless walls.

Your head jerks up,
eyes thinning into slits.
Drop it, you spit.
You're not a great actress.
Throw away your empty act.

My expression hardens,
my emotions becoming beyond edgy.
I'm not acting. I practically growl.

I gnaw away at my chapped lips,
welcoming in the bitter, steady flow of
blood.

You lecture me in the faults of liars,
me nodding every now and then,
knowing I don't give a care,
you letting your words waste away.

I savor the silence in between the classic lectures
of safety and self esteem that are given to every little girl
in hopes to save her rotting soul,
from digging herself farther down the rabbit hole
of the deranged bunny.

You drone on,
your words blurring together as I block you out,
my attention fading back to the ones I love,

and all conscious thoughts shut down,
my mind preferring the precious numbness
of silence
to your scolding.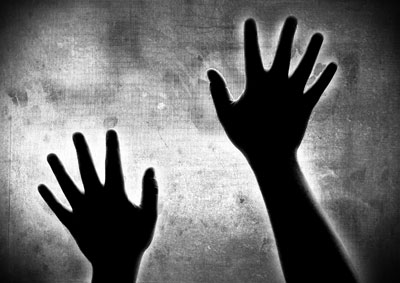 © Andrew F., Lake In The Hills, IL