The Boy Who was Blown Away
April 19, 2010
The boy with the bruise across his nose had come in to school smiling today,
He said that he was beaten by the wind.
That it's fierce power had pushed him down. Again. and Again.
Until he bled.
He bled out his defeat,
his anger,

He said that the wind had brought him into the world in a swirl .
that It had lifted him off his feet and showed him the streets,
that it was gentile in the daylight,
but when night fell upon the meadow,
it would turn into a battle field,
summer storms were the worst, he said,
the rain came down so hard it left welts across his arms,
the thunder screamed him deaf,
and the lightning struck him blind,
and the wind would lose control,
but last night the wind had only pushed him down a hill,
he said he be okay for now.

the class laughed at his silly excuse,
they always did,
he was a silly boy,

the next day the boy's seat laid empty, cold and empty,

a man in a blue uniform came in the class, telling us the boy was found in the ocean.
I told the man that the wind had done it.
there was a hurricane last night,
it pushed the boy of the ledge,

last night the boy had drowned because the wind had lifted him in the air and threw him into the ocean
last night the wind had given up, as did the boy with the bruise across his face,

we had peas and baked chicken last night at the family table,
i wonder what the boy ate for dinner before being blown away.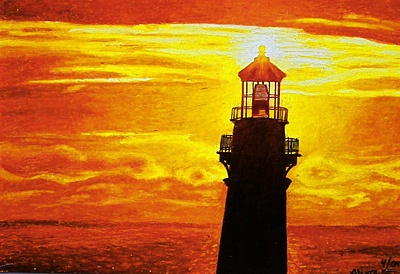 © Alyssa G., Charlotte, NC