That Fluttering Feeling
April 19, 2010
Today is that day
Your heart flops up and down
Your hands sweat as if water was poured onto them
Your knees shake like earthquakes
You see shiny, sparkling stars
and swirl as if you were a merry-go-round
This is that fluttering feeling

That fluttering feeling is high on this day
It knows to come out in the open,
just like the groundhog to see his shadow
It comes into you and makes you want to find the one
Taking a ride on Cupid's arrow,
That fluttering feeling aims at your heart and settles in.
Making your heart its home.
For it has invaded successfully.

From its new home, it continues with its plan
That fluttering feeling makes the brain its next target
Hypnotizing your brain to follow its orders
It now has you in its control
From the brain, that fluttering feeling kicks your hormones into overdrive
Then makes you blind to everything around
So you carry out its mission…
To find that special someone for you

So when your heart is invaded by that fluttering feeling
Welcome it and let it help you
For you will end up happy on that special day.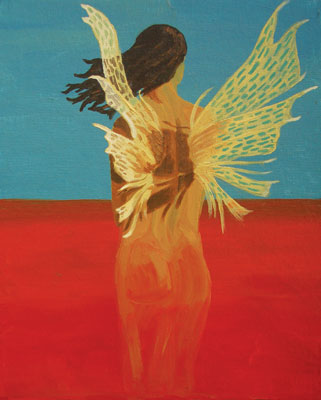 © Allison F., Langhorne, PA