Brought Up to Be
May 17, 2010
I am from Green Eggs and Ham.
From not knowing how to speak English, crying and pretending to speak it.
I am from talking so much you ears will bleed.
From singing the songs that would please.
I am from making my older sister cry.
From crying first so I wouldn't get in trouble.

I am from playing hop scotch on hot summer days.
From a long day of learning to ride a bike.
I am from eating cherry collision.
From long days of games with our neighborhood friends.
I am from moving to South Plainfield.
From meeting new people and getting closer to the family.

I am from trips to my country, Ecuador.
From meeting family members whom we've never seen.
I am from studying and reading.
From trying my best to do good in school. I am from summer vacation at Florida.
From seeing Goofy, Mini Mouse, and Mickey Mouse.

I am from starting high school.
From ups and downs but always getting through.
I am from wanting to strive to be the best.
from home made meals that make me want to lick my fingers.
I am from taking naps and watching shows.
From just being who I was brought up to be.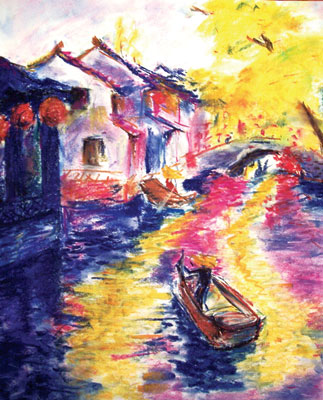 © Xiao H., Naperville, IL