What You Mean To Me
June 28, 2010
Baby,
I'm scared.
I guess
I should have
known better
to give it all to you.
You took my heart,
but every time
I get attatched,
something happens
and I never get to see
that someone again.
Baby,
I love you
and I don't wanna lose
the first one in years
I've had the ability
to give my heart to.
You're my everything now.
I am terrified...
Darlin',
I can see s in the future
holdin our first born...
A baby girl.
She's wrapped in a pink
blanket of fleece.
In the corner,
a small written piece.
Texa-Jade in cursive.
Baby...
I've never done that before.
The one I loved before,
all I saw was me wrapped
in his arms.
I never saw me and him
with a baby girl.
Not a baby at all...
With you,'I can see it clearly...
We're standing in front
of a tan wall.
We're looking
at OUR baby.
I'm holding her,
and you're holding me.
She's wrapped in pink.
You're wearing green.
I've put her blanket
on my chest.
My hair's down,
and hers is brown.
Her eyes are green.
Gah,Baby,it's so realistic.
Only a few more years
and we can make
that dream of mine
into a snapshot.
You've told before
you're fallin' in love
wth a wonderful girl.
You were talking
about me.
It was my eyes
you looked straight into.
Baby,
I want to be with you forever.
There is no doubt in my mind.
I love you.
There is nothing to be defined.
I want to keep you
in my life...
You told me
I would be
treated right.
I believe you,Baby.
You're the one
that kept that horrible fight
broke up on that horrible night.
Daddy almost killed
that woman-beater.
I was scared to death.
The guy
pulled a knife.
Baby, you took the cut.
All I could do was cry.
I was shakin' so bad.
The only time
you took you caring eyes
off that fight
was to comfort a shaken woman.
You said to me,
"C'mere, Baby.
You don't need to be watchin' this."
You kept your arms
around mine and me...
Until I screamed.
You didn't have a clue
what was goin' on.
Daddy was chokin'
that terrible man.
I told you
to get tem apart.
If it wasn't for you,
Baby,
I don't know
what I would do.
All I could think was
"My babies."
You told me
when it was ll over,
"Baby, I'd adopt 'em.
I love kids. You wouldn't
have anything to worry about."
It takes a man
to say
something like that.
Baby,
I wanted you to know
how much you mean to me.
Baby,
I love you.
Just remember,
I'll spend the rest of my life
with the one I love.
And,Baby,
I'll marry you, too!!!
I want to have your kids.
Baby,
I just want to be with you
until my life ends
and God takes it
and begins all over again.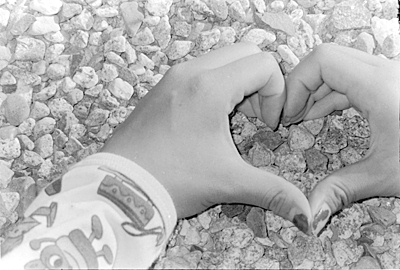 © Caitlin T., Marblehead, MA