The night I french kissed static or A donkey - kick to logic
July 11, 2010
Let me rearrange your dead body
Gluing together silent, fragile, broken bones
With an opinion. A plan. A method. A thought.
With a sticky mental conception you can't be taught.

It's something not present.
It's not been experienced.
It's not even real. But it's really resourceful.
It's poems in blue pen.
It's giggly girls with young men.
It's when a flower smiles at you.
It's when you laugh and hiccup to.
It's pressure built in the silent pauses between words.

Words slowly slipping, softly.
Words rippling from your mouth
An indistinct vibrating sound.
That only happens when you relate, yet don't understand.

"...And who could understand us?"
Said the poets making verbal love.
Though distance built it's wall
The language of our hearts screamed while folding the edges of the map.
Now we are perfectly unaligned.
This is what poetry is...

The cancellation of gender,
To neutralize belief.
The offset of eye color.
The soul and the soul
Speaking on a stormy wave.

The same wave that capsized
And drowns our words to LIFE.
Like some sort of backwards baptism
Or some sort of unholy resurrection.

"...And who could understand us?"
And you said " I'd rather live my whole life
A romantic tool then a heartless fool."
We cried all night. We begged the city saying.
"Please don't shake out another empty child!"
And when I stared I saw a key-hole in your eyes.
I tried to unlock it with my disguise.
But a poet can always see his or her cage.
(Even when it's not there.)
And your arms always looked like bars to me.
My dreams got tired of me running from them...So they left.

I promise you I would drown in the sea
A thousand times to get what I've thrown away.
Or is it all a self-serving lust?

"...And who could understand us?"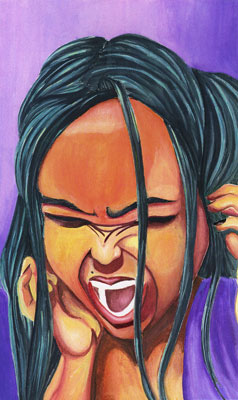 © Kriztille J., Briarwood, NY