What Goes On
July 24, 2010
Shimmering lights hang in the sky as if suspended. Lace clouds leave the moon half covered. It is night.
'So much to do,' whispers a flicker of the breeze.
'Not enough time,' replies a lazy rush of water.
A small and significant melody is twisted through the fingers of long weeded grass; winded again and again as a cricket slowly cries. It is a long and musical sound.
A beam of silvery light sashays and hits the river. As if to protest, the water gives a shuddering roar, a constant, steady noise. The notes are high and soon spiral into silence.
The light twinkles on the ready water, flipping and twisting in the most reluctant of spots.
A breeze flits up and down along the banks, ruffling the heads of tall grass and the occasional wildly cut bush.
Muffled steps shock the silence of the bank; a small animal wanders up unto the edge of the brushy tides and plunges into a small, interminable hollow in the ground.
Silence takes over in waves as the wind slowly and with definite finality ceases to blow; and at last a speck of light is seen.
It is dawn.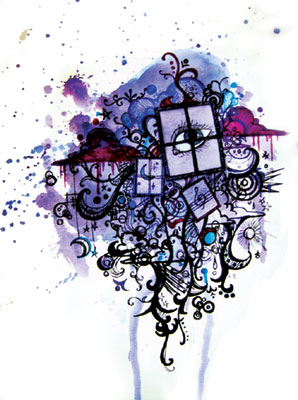 © Savannah R., Stoneville, TX