Writing
July 14, 2010
Writing is something that comes from my heart
Line after line, page after page
I write to explain, to get my point across
I write to remember the things that broke me apart
Things to never forget
Happiness, Love, or Pain
Amazing people along my journey I have met,
Then the ones who hurt me and left me in shame
Time doesn't remove the scars
Writing is a healer of cuts
I wish he were locked behind bars
Maybe I'll have the strength to write about it but...
Some memories stay with you forever
Those days in the past make me live by 'never'
Stripped of hope, of innocence and love
I try to move on and live up above
But not until she comes back to me,
Not until she admits it and we discuss
Because until that day,
I am forever buried in disgust.
In sadness, and in anger,
In desires and dreams that never came true
Until that day,
I am still a victim of you.
Writing is my joy,
A happiness that is so simple
Writing is my hobby
My everything, myself
When I am finished and re-read my stories
I am left with a sort of calmness
The fakeness of people,
The cruelty of people, none of it exists.
My writing is mine, and mine alone
It shows me a love that I have never known.
I am shaped by my experiences
And for that I am nothing short of sad
Writing helps me to change and be who I want to be
I secretly fear that I am destined to be bad
On the other hand
I've learned so much from my past
Day in and day out
I always seem to finish last
When I write it's like I'm the very first
To my knowledge and my thirst
It gives me a sort of strength
I want it, I want to change.
Writing is the glue to each and every journey
It holds onto the memories
Writing is the passion from within
That is dying to come out, I give in.
So I write to write
I write to live
I write to remember
And also to forgive
I write to stay above
And never go below
In that very dark place
That I never want to know
I write so I can breathe
And I write to stay alive
I write to have hope for the future
Writing...it's all mine.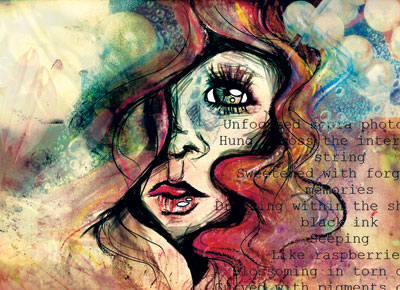 © Victor K., Las Vegas, NV