When I'm Eighty-Three
August 2, 2010
When I'm eighty-three

I imagine that it'll be just you and me.

Sitting in the sun beneath the nig blue sky,

The sun still warm, the grass incredibly high.

Our daughter, or our son,

Playing with their children, like we did before them, always in love

Above us, clouds float by, as white as a dove.

We sit on the porch, watching our grandchildren play

Talk about the world that passes us, day by day.

I'll love you like how queens love their kings,

Our wrinkled skin almost hiding our wedding rings.

You'll kiss me, just like always, warmth spreading to my toes

On my lips, forehead, cheek— even my nose.

The life we live together, our pain taken flight,

The impossible realized, no tears, no anger, no fright.

When I'm eighty-three,

We'll live in a Victorian house by the sea.

I'll watch the sun bleed red into the waves

Hold your hand, clutch it to my chest, until we're in our graves.

Your eyes will still still shine like the stars above

That special look, one of love.

We'll talk of bygone eras, boring our grandchildren to tears

But we'll have been together, through all of these long years.

We'll make the life God didn't give us

Love, happiness, warmth, bwing worth the fuss

Of long, bleary-eyed nights, hopeless tears, and worried words

Ignoring soured milk until it turns to curds

When I'm eighty-three

The only thing I want to see

Is your laugh and smile, your beautiful brown eyes

I'll always comfort our kid if she cries.

I'll make up for a world of heartbreak

I'll give you true love forever, love that will never be fake.

The world will turn, stars will fall, seasons will progress,

As we live our lives together, leaving behind all this mess.

We'll still cuddle with my head on your shoulder,

People'll still "aww," cause its cuter when we're older.

We'll have beaten everything in our way,

All the problems we've had, our skies will never again be gray.

We'll be hand in hand together until the world's end

And a forgotten world, eras long past, we'll still defend.

When I'm nintey-seven,

I bet I'll be in heaven

Who lives to be that old anyway?

But if you live to be a hundred, I want to be a hundred minus one day

Because I never want to live without you babe, never,

We'll be in each other's arms forever and ever.

You and I will tell our love story to anyone who will hear

Never have an ending, never be over, always without fear.

Our golden anniversary will come and go,

But our love will always grow,

I'll whisper words into your ear,

Your deaf, wizened ear, words you long to hear,

That through thick, through thin, through day and night

I'm in love with you every moment, dark and light.

Oh, why must we wait until we're eighty-three?

Let's make our life together, just you and me.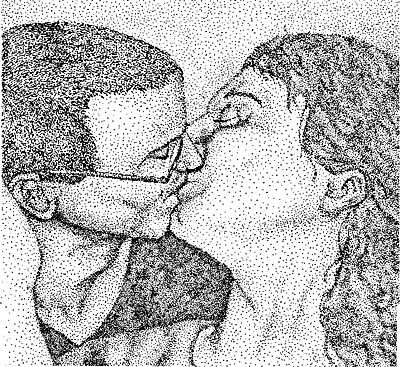 © Amanda H., Rogers, MN