Never Before Seen
October 2, 2010
In the center of my body
Be all that do remain
Of my never complete structure
Of this complete frame.

You see such confidence
My walk, this stride,
Inside I tremble in darkness
Emptiness, completely dry.

My image is what you seek
You believe that you know me,
Except that you don't.
My body, my soul, my mind,
Might as well be something untold.

So I ponder and I wait
For eternity to come--
You fall fonder, still remain
Time elapses, and all is gone.

For everything that I have told you,
I greedily take it all back,
That way when you call to me
Realization is only a fact.

Forget about me
And every injustice I did create
Bury my desolate body
So that this ending completes my fate.

For I did create it.
I even created me.
How? You chance to ask.
I have come to hide beneath.

No longer do I know
Who exactly it is that I am
And for this, I'll whisper to you
I'll never be all that I can.




When I tell you to hold on,
I'm warning you, please let go.
When you feel to remain strong,
It is only so that you should know.

Goodbyes are something beautiful,
Sad—but a necessity,
So when you try to hold on
My promise is to set you free.

For if it be me
And instead not you
A promise of goodbye
Is something I must do

When I have accepted abandonment
And struggled forth through all loss,
It was never with companionship
That left me dying at my cross.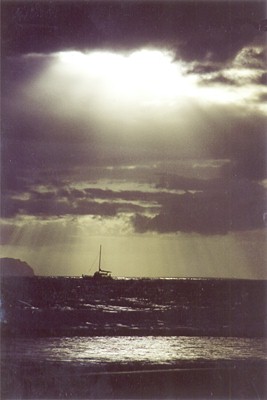 © Lily H., Kekaha, HI