Standing In The Rain
October 14, 2010
It is an amazing moment
when you turn around
after having walked for miles
only to see the path you've taken
vanish into thin air.
Every uncertainty of a life
remembered and re-remembered
comes crashing down on you
larger than you would've thought
much larger than you can take
for these weeds grow in the back of your mind
neglect fertilises them
and then they wrap around you
and pull you down...
Explosions of questions
every one left unanswered
can standing in the rain
wash these memories away?
Can standing under a falling wall of water
get me clean of the muddled up
feelings that are choking me
and creating the hollow of
loneliness in the pit of my stomach?
Is there anything that can
rid me of these tainted thoughts
that are making me
spin in vicious circles?
Can I leave behind what I've done
what I've endured
and start afresh?
Without the exhaustion of
having come so far
yet not have gone anywhere at all...
Here I am, standing in the rain
No amount of water can wash away the pain
as my tears fall down
without making a sound
I smile because I know it was all false
I am still alone, as I always was.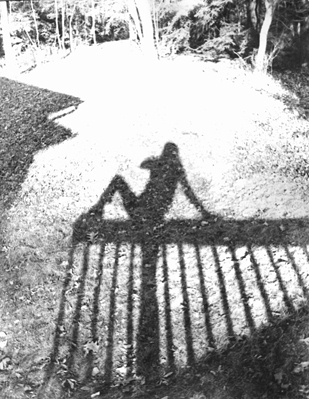 © Catlin W., Cogan Station, PA