Older.
November 5, 2010
I remember the days
when simple little things
used to bring me to tears.
I remember the days
when I could fall down and scrape my knee
run crying to comfort
and not seem weak.
But those easily sunlit, easily darkened
days are gone
no more than memories
of an easier time,
that, like the present always does
seemed harder back then.
But now, I am older.
I am braver, stronger.
Not so easy to break.
I control tears, I control fears.
I calm myself down even when I'm
curled up in a corner, all alone
at the back of my head
pain keening, echoing in every part of my being.
Now, I am older.
I look, brazen, into the eyes
of anyone trying to tear me down
even though, inside, something shatters
just to know that people can wish this on each other.
I see wrong happening to others
and control my urge to run and help.
I root myself to the spot
reminding myself that now, I am older
and will not be forgiven for this childlike error.
I no longer hold on to my dreams
as more than pieces of pictures I saw when I was asleep
for now, I am older
and fairytales are unreal, and reality
is extremely un-fairytale-like.
I sleep late because of things worrying me
I wake up early and start worrying again
Long gone are the days when
my problems could be assuaged by others.
Everyday I walk out
my head is held high
in a world of grownups
I am a child who is older.
And every time something happens
that makes me feel like a helpless child again
I tell myself that now, I'm older
I'll get used to the pain.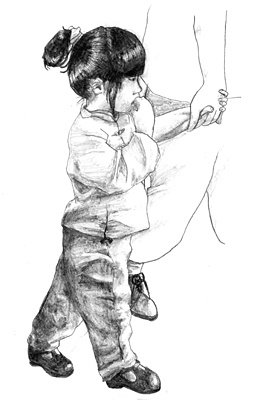 © Laura K., Kendall Park, NJ