In the storm
November 14, 2010
Splish, splash, there goes the rain.
As it soothes and clenches all the pain.
It tries to wash away what can't be washed.
Still I wish it could wash the rest of me away.
It pours down harder soaking my skin.
Trying so hard to forget I can't seem to grin.
Finally, here it is the storm at it's peak.
The winds howl and let out a high shriek.
The water hits the ground like rocks.
The booming thunder gives your heart a shock.
I'm still as a statue and the storm drags on.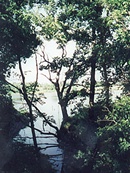 © Jennifer A., Plattsburg, MO