My Song
December 2, 2010
Your hands are rough, calloused by the years you spent
practicing.
They said you were wasting your time, would never amount to anything:
Fingers are elongated---bleeding
you bandage them up, continue playing
Chord to chord to pull offs and slides,
indifferent to the voices in your ear
Because there is one rhythm you will ever hear
So you play:
To drown out the sirens in the street, to the quiet barks
of the neighborhood stray
and late at night, in the darkness of your room
You stare out the window and play for you.
In a song that describes your every accomplishment
and every failure
These notes are the notes of your adventure
Because nothings too hard
to master your instrument
the guitar.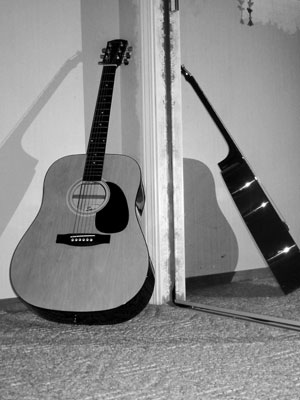 © Dylan F., Belleville, MI