For The Rest
December 29, 2010
I remember that night.
The one that ended perfectly right.
I was in your arms.
And you held me Oh so tight.
I fell in love...
once again, to my surprise.
I wish I could see you one more time
with my sole longingful eyes.
Baby, I love you.
That is no doubt in my mind.
I wish I could see you more.
Just enough to help me through...
Just enough to pass time by.
Until we can be together.
Until we can stay with each other
and die in each other's arms.
Baby,
I know I'm askin' a lot,
but it's not really that much.
I just want to feel your touch...

For the rest of our lives!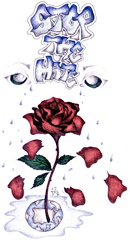 © Diana G., Phoenix, AZ