Thumbs Arem't Pretty
January 15, 2011
The dancer is sculpted, a flail of crinoline licking her crooked knees.
She storms the floor,
It pushes into her, and beats her on,
But the dancer does not feel pain—
Only the steady banter of arrowed legs and skeletal arms.
She shatters the space around her, moving in a way that spawns stares.
Sweat sits on top of her, a sprout and stamp of it all across her body,
It clambers down the slices of her cheekbones, and braids her hair into
Tangles.

Her ankles are knobs; her collarbone is a handle,
A length of liquid skin, yielding, doing little to conceal her bones.
The music pulls her body into position, like the moon commanding the tide,
Her hips and heart are working overtime, just to keep her airborne.
She is not afraid to fly, because she's been doing it all her life,
Even landing has become easy—puckering of ground under calloused feet; dulled relief.
What the dancer is afraid of (and it's one of those chest-tightening fears) is never coming Down.

This is her art, and she sees what it's done to her:
Crusts of recycled blood inside the toes of her formally white shoes.
But when the movements make her want to erupt,
When she's weightless, and the leaps and spins are an embrace—
A cacophony of universal and boiling harmony—
That is the passion. And it is the greatest kind of ruin she ever hopes to feel.

I think people who don't dance have this opinion that it's glamorous.
Ridiculous.
Dance is a battle, and we will always be its warriors,
It will never deny us the strength and victory of flying and landing.

Art is our light, overcoming the darkness, placing hope where desolation once stood.
It is our advocate; our companion; our fellow; our witness—
To be an artist is to have another soul in the room with you,
By your side. A world packed with possibilities,
No matter what.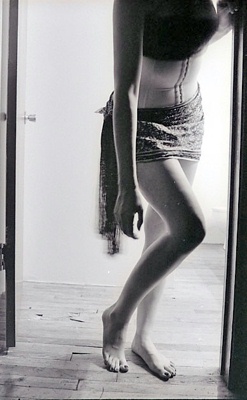 © Alexandra K., Chicago, IL