La Ciudad
January 15, 2011
<i>"No!"</i>
The word; the savage removal of silence,
With ragged edges sketching the contours of where it previously reclined.
A thump of youth, capped by the foam of rebellion.
Trapped below the crust for all this time,
I am finally resisting—<i>am I</i> finally <i>resisting?</i>
Too long, my voice has lain dormant in my gut, as an unused wad of speech.
But now—am I not so vacant, here in my flesh?
Am I found? Am I coming undone?
The flakes of my porcelain shell shattering, revealing the colors inside,
The girl I mean to be thrusts herself forward.
Am I yellow? Am I clear? Am I <i>bursting? </i>
Am I what I always imagined I would be?

I have dreams like the earth has oceans,
That's the life I chose.
Build higher walls, if you wish.
But we are leaving the city tonight—
And these are the last words.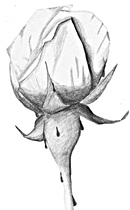 © Elaine S., Phoenix, AZ