The Horned God
February 17, 2011
There he sits,
upon his throne.
The Horned God,
and his three faced queen.

His face is blank.
His eyes,
dark as the night itself.
He is seemingly innocent.
But what lies beneath the surface?

He grabs his queen by the hair.
Throws her to the black marble floors.
He whispers in an unrecognizable tongue.
She erupts into flame.

She writhes,
and screams,
but her flesh doesn't blacken.
As is the purpose of his sinister spell.

His face shows no emotion.
Bare as slate.

His guards tremor in fear,
watching the scene with wide eyes.
Knowing if they moved,
they would to be subjected to his magic.

The flames subside.
She lays there crying.
The Horned God rises,
walking slowly until he stands directly over her.

Looking straight into her tear streamed eyes,
he whispers to her.
"You were created from nothing, and so shall you return."

Evil incarnate.
Ever eternal.
The Horned God laughs.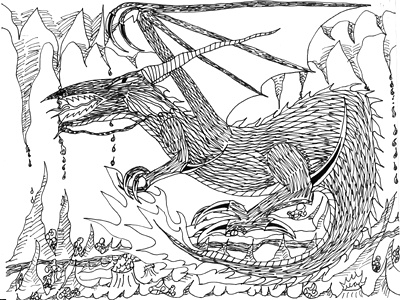 © Adrian A., Las Guces, NM