Seeds of a Spark
March 7, 2011
It's funny how inspiration works.
Spreading like little seeds in the brick wall called (*gulp*) writer's block.
I write something, you think, "That's good!" and write something about being inspired.
I read it and think, "That's good!" and write something about inspiration spawning.
She reads it, and hates it, a writes a scathing review of the Matrix, because it twisted her mind in knots.
He writes about angry people, you write about your father, they write about their sister, I write about my sister, he writes about rock climbing.
(Wait. What? Oh, I see. He's just out of the loop on these things.)
Soon enough, I'm back to writing about how inspiration spawns like little seeds in the towering red-brick wall that fills the dark spaces of our mind.
And someone will probably write about how this isn't really a poem, and how angry that makes them.
But it is, in a way. One long, flowing poem of a million words spiraling though our heads, dodging in and out and weaving between each other and somehow defying all the laws that we have set for ourselves, and making their way down on paper.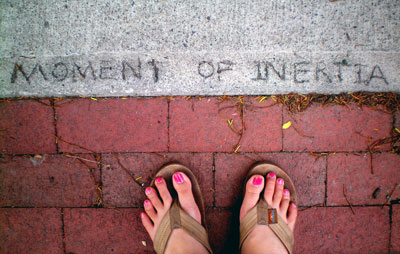 © Kate H., Fullerton, CA