Behind the Mask
March 31, 2011
It's all just a mask, a curtain of sorts.
Colorful and bright, cheerful and light,
It's the barrier that hides me from the world.
An opaque sheet of cloth,
It prevents others from seeing what's on the inside.

To most I am the cheerful ,bubbly girl.
Always smiling, always laughing, not a care in the world.
I laugh at their jokes and offer words of encouragement.
I try and give more than I receive.
Everyone has problems of their own, they don't need mine.

For the select few there is more.
A glimpse behind the curtain.
A crack just big enough to see.
They think they know me because of this.
But I can shut them out faster than I let them in.

To them I'm still colourful just a little more dull.
I play the same game with them that I play with everyone else.
I pretend everything is alright.
But sometimes, on those rare occasions I don't.
Every once in awhile the fabric tears and i shed a tear.

Those few little droplets get wiped away fast.
I close the curtain pulling it tight.
Soon I am giggling and playing again.
Any sign of weakness is soon forgotten.
Everything is back to normal.

There's always someone watching,
even when you think you're alone.
Around the corner comes someone
and the charade begins again.
I've learned never to let my guard down.

There's only one place where I am truly myself.
Alone in my room in the safety of the night
tears roll down my cheeks, salty and warm.
They leave their mark on my rosy pink cheeks.
They are the soldiers breaking down the wall.

Along with the make-up the mask comes off.
It's done its job, it's hidden the true me.
In those few hours of solitude and darkness I'm safe.
No one can hear my whimpers, see my tears, feel my pain.
Tomorrow I'll hide again, but for now I am me.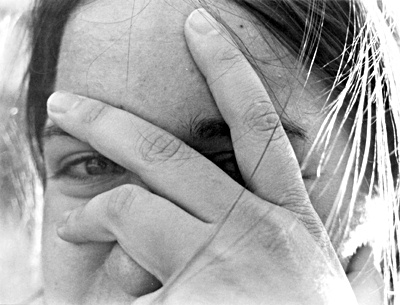 © Claire E., Bethesda, MD