Eyelight
April 7, 2011
The track meet when I was there at the end of your race,
and the sweat dripped down your face like tears
but your smile was wider than all the oceans of the earth?
"I could run round the world if you were waiting at the end," you said;
do you remember that?
The bus ride home that night,
and I sang old Irish songs, all the ones you loved to hear,
and you fell asleep
with your head against my arm,
and the moonlight shining on your slumbering angel face.
And I sang on, with no audience but your dream-self and the one lonely star shining down upon the desert.
I woke you when we came to the turn-off into town.
I didn't want to –
because your eyelashes lay on your cheeks as contentedly as you leaned against me
and the peace in your face was too exquisite to disturb,
but I had to.
It felt almost rude,
or like desecrating something beautiful,
until your eyes opened and shone at me like northern stars and I knew
that though peace is a beautiful thing,
the tumult of your eyes is more so.
And even in our wild wasteland of a home,
you are a beacon,
a lighthouse helping me
find my path over the desolate prairie.
Never close your eyes, love,
because I'd lose my way.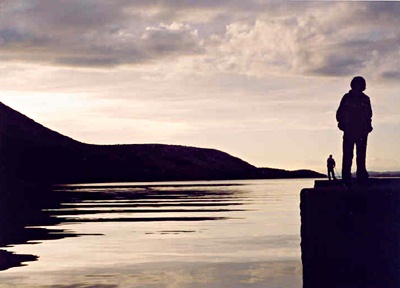 © Julia K., Nagykovacsi, Hungary