A Proper Goodbye
April 20, 2011
We started at a Burger king,
on the hot plastic benches outside,
a spread of their finest in front of us.
We were fresh off the plane,
with our rental car loaded, suitcases
filling the trunk and backseat.

It was like we were moving here,
with the amount of stuff we had.

Mom finished her meal and cleaned us
both up, and we made our way
to the car once more—
white, was it? I'll never remember.
It was so long ago.
Seven years, to be exact.

Just the three of us. Dad stayed home,
though I didn't understand why at
The time.
Well I'm older now. It all makes sense now.

We drove down the four lane boulevards,
lined with palm trees which were so foreign
to us East Coasters.

We only knew snow and hot summers,
And big bushy oak trees that were naked
in the winter.

The air was thick and humid,
clinging to my ten year old skin
as I climbed out of the car, into my
Grandmother's arms.

My mom stood and watched,
a strange smile on her face,
one I'd only seen a few times before.

"Aren't you happy?" I asked her,
but she only looked at me.
She hugged her mother with caution,
and they mumbled under their breath,
so that I wouldn't hear.




I played with the cats in the house
while my Grandmother cooked.
Their fur was long and matted,
and they were only friendly every other day,
but I didn't mind so much.

How could I?
I was here, back where my mother felt at home,
She was no longer separated from them
by those 2869 miles, stretching from coast to coast.

She should have been happy.
She should have been smiling, not in that
Strange way that filled her face whenever
She saw Grandma, or my aunts and uncles.

We stayed in that house for a while,
with the cats, Grandma, and a pool.
Weeks passed, and we got bored,
so we moved—to Mom's aunt's apartment,
with the dirty pool and unfriendly people,
on a big, steep hill with cracked pavement.

I didn't mind so much, though.
I did miss the cats and Grandma.

And weeks passed, and we got bored,
so we moved again.
We stayed in Mom's aunt's van,
on Venice Beach, where I only wore pajamas,
and bathed in the Pacific, and rode a skateboard on my stomach
down the boardwalk as the sun set.

We were happy, eating tacos,
roasting marshmallows. I wore sweatshirts
when the nights were cold from the breeze of the ocean.
I smelled of fire and salt.

I didn't mind so much, because
We were all together,
Our laughter danced in the air, danced in the ears
of beachgoers. I slept with the stars as my nightlight,
and you still didn't smile.


Some days we went to Mexico,
where you said you would get better,
where they seemed so sweet and nice in the clinic,
and they gave us candy and gave you treatments,
and you thought we should get them too,
and you watched as they stuck needles into
my ten year old skin, and her seven year old skin,
the skin that had felt the warm air and the ocean salt
and thick smoke from the fires we made.

We were so vulnerable, so young, but you
just wanted to get better,
and wanted us to never have to get better,
to always be better.
So, I let them stick the needles in my arm, take my blood
And give it back.

I didn't mind so much, though.

Because you started to smile,
and you would buy us glass statues
from the men along the border,
looking for a sale so they could put
food on the table for their family that night.

And we went back and forth, border to border,
And I collected statues, though some broke in my
clumsy little hands. But you would buy me another one,
if I did what I was told. So I did it, because what ten year old
could resist a statue and a smile?

You were happy, so I didn't mind so much.
And you were better, it seemed, but I was only ten.
What did I know?

I didn't know that you would get the phone call
You and Grandma and all my aunts and uncles
had been waiting for that whole summer.
I didn't know that the phone call was why you'd
ignore me when I asked, "Where's Grandpa?"

And then he was gone, and I didn't get to say goodbye,
And everyone was crying and sad. But you,
you seemed okay, and I was confused, because you loved him
so much even though Dad called him a monster, which I didn't
understand at the time, and you were sad every day but that day,
when all you loved was just gone.

You were happy. You smiled at me and gave me a hug,
and we stopped going to Mexico because you said
you were all better.

So we moved again, this time back home,
to the East Coast, with Dad and the cat and our guinea pigs.
And when we walked through the door to the kitchen
I had missed so much without realizing, Dad was there,
wearing that smile of yours, and I felt a pit in my stomach,
and I knew you'd left yourself in California, like you had
every other time before. You hugged Dad with caution,
and he told us to go to our rooms, that he'd see us later.

And you yelled and he yelled, and finally you cried.
Finally, you were sad and broken and fragile and vulnerable,
Like me in my ten year old skin, which was tan from the
sun that beat down on me during the summer of my life;
which you broke with the needles you allowed them
to stick in my arms, trying making up for it with some glass statues.

Those statues are broken now,
as I pack my suitcase, seven years later, my skin now seventeen,
the holes healed.

Because we when we got back, you were sad,
which made me happy, because I thought you were
finally feeling the way you should, because a person should cry
when their father dies, and when the tears stop, they move on.

But your tears were perpetual, your sadness perpetual.
And then you were gone, and I didn't get to say goodbye,
because you'd left yourself in California.

The holes are healed, seven years later,
and I'm packing my bags, and I'll run into Grandmother's arms,
and see my aunts and uncles, and they'll tell me how similar
We are, and we'll go to the beach, and I'll smell of fire and salt once more.
The stars will be my nightlights.

And then I'll go and find you.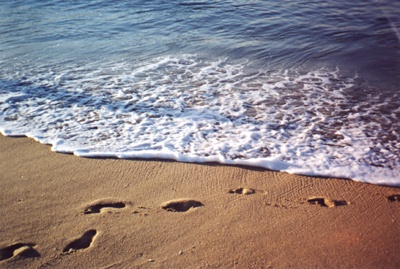 © Daniel M., Phoenix, AZ