We Only Hide
May 3, 2011
I look at people,
And see nothing but lies.
Nothing but secrets buried,
Buried deep beneath the ashes of an internal flare.

I see something dying to be told,
Something that they are terrified to hold.

A dishonest deed.
A shameful act.
An innocent look.
An adulterous kiss.

I remember the good old days,
Where we all knew everything.
Everything about our family.
Everything about our friends.
Everything about ourselves.

But those days are long gone.
And now we are judged.
We no longer confide.
We only…hide.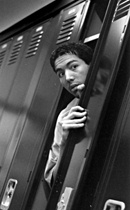 © Paulina A.,Marblehead, MA