Someone Like You
May 16, 2011
She sheds silent tears day by day,
And waits for that one person to ask if she's okay.

She smiles hides her pain and lies,
But secretly all she wants is someone to be there when she cries.

She makes the same promises now and then,
But the pressure of life makes her break them and leaves her bent.

People always judge the way she heals,
But they never take into consideration how she really feels.

Sadness and fear overflow and she finds herself with no way out,
But in herself proclaimed final hours someone began to figure her out.

She doesn't know if to believe when they say everything will be fine,
After everything that's happened so far why is it only now they want to help and feel they should try.

But she feels desperate and decides to let them know,
She tells them everything that's happened so far to how long shes been putting an eternal show.

The tears they shed seem familiar like the ones she sheds most of the time,
But she's too hurt to accept the help different people offer her from time to time.

She's too caught up in her own life and her own pain to realize that they stand beside her and see between the line of wrong and right,
But she feels too weak to stand up and fight.

Then came the day when the source of her breath saw the scars of her pain,
She was so much more confused and hurt and couldn't figure out who was there really that she should have blamed.

They too judged her incorrectly and although they seemed hurt they surprisingly didn't really seem to care,
So once again it happened where she had to succumb to her vice as they left her in a state of despair.

Then later in life she meets another lost and hurt soul,
Turn out she too feel into that same dark hole.

She's cautious and afraid, she doesn't want another person to try and help then leave her in the cold,
But she needs someone to stay there and someones hand to hold,
So instead of hiding herself and her problems she takes the initiative to be bold.

From starting point to finish line she tells her story,
From every last cut tear to the few moments where she felt glory.

They both felt each other's pain, misery, and emptiness,
Because neither of them had yet found true happiness,
They wanted to help each other and be there but they found that their wishful thinking was slipping into carelessness.

They both wanted to say the same crappy line,
That life only gets better and that everything will turn out fine.

But after everything they've been through after everything they've seen,
They know it's never going to change and that everything they wish will only be a dream.

But at least now they both know that they're not on their own,
Now they can truly say that they're not alone.

In the beginning there was a girl who was blinded by pain,
Now in the end she finally found someone just like her to keep her safe and keep her sane.

She feels a good amount of hope,
She no longer finds use for that breath taking rope.

She tosses every bit of glass and every single blade,
Now she feels that for once she'll never have to need them for another day.

She dreams her pain will go away,
And she fantasizes that her scars will fade one day.

And with time and support slowly she enjoyed support she can find,
With someone by her side and a new world in front of her the problems subside.

Maybe one day you will find that person in life that's just like you,
Just know that people like that there is only a few.

And once you find that one person never let go,
Because eventually there's a whole new perspective to see that they'll show.

Life is a gift given to you for free without a choice,
You may not like it but you must use it and show the world the sound of your voice.

So even if you feel sad now the tide will always change,
And someday you will look back and laugh at this day.

Just open your eyes there's a world waiting for you,
But don't panic if it doesn't happen now because we're waiting for them to open too.

The reasons all vary but the pain is the same,
Suicide isn't the answer it's simply insane.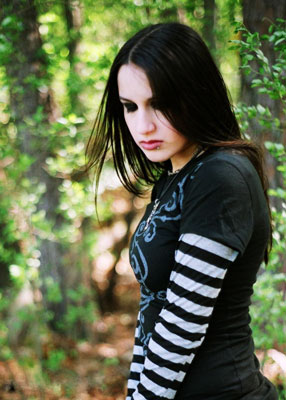 © Rebecca B., Marietta, GA