You hold me back
May 20, 2011
Dreams forgotten
Hopes left to die.
Nothing ever happens
When you're by my side.

Ambitions waver
Lights go dim.
You keep saying "Later,"
And you always win.

The chapter's frozen
Pen ink's gone dry.
I'm waiting on you
But you wont decide.

My heart's racing
But my body won't move.
You keep me here,
Cuz you can't choose.

Your life is stable;
I like to move
But thanks to you.
We're both wearing your shoes.

I like to experience
all that's there.
But how can I
if you keep me here?

You like to stand
And I prefer to fly.
But you hold me down
So I can't reach the sky.

Life is a game
that changes everyday.
But you hold me back
'Cuz you hate to play.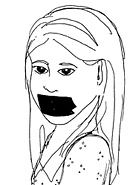 © Liza M., Vineland, NJ