New Strength
May 24, 2011
I trusted,
I believed,
He lied,
He decieved.

He's gone,
And won't come back,
I realize now,
It's him I lack.

Left me with scars,
That I cover with sleeves,
Then one day I show him,
And the next day he leaves.

He said he loves me,
But he doesn't care,
If only he knew,
The source of my nightmare.

I wonder if one day,
Hell will take him in,
He's a believer and in God's eyes,
Leaving was his sin.


I do admit I love him,
But I desire the worst upon his soul,
It's mainly because of him,
That I fell into this one way dark hole.

The other reasons still matter,
But he overflowed it all,
It made me very weak,
And eventually made me fall.

So then one comes along,
He offers his hand for me to hold,
He's comprehensive,
And warms my heart that was once cold.

His imperfections make him perfect,
But he's also hurt inside,
When I look him in the eyes I feel his pain,
It's something he just can't hide.

His pain only makes me feel worse,
He doesn't deserve it at all,
And his strength is washing away,
I hope he too doesn't fall.

But the one thing about him I admire,
Is his positiveness and his ability to find the light,
He's very unlike me,
And he's strong enough to fight.

I'm at my peak,
And soon again I'll fall,
Just wish he'll be there,
To help me through it all.

I feel unhappy,
When he frowns,
But when he smiles,
I no longer feel down.

There's something about him,
That makes me feel right,
Feel that I belong,
But still weak to be able to fight.

He's my weak point,
Without him I fall,
He should have never crossed my path,
Becuase of him I can only crawl.

He gave me strength,
But in order for it to work well,
He must be there,
I have one secret but I'm scared to tell.

Afraid that I'll lose him,
Scared that he'll leave me,
He's my vision,
Without him I just can't see.

This sudden silence has grown between us,
He sees me as a stranger,
He's leaving like him,
And now approaching I feel danger.

This is the start,
Only the begining of my next fall,
And all he shows,
Is that he doesn't care at all.

I trusted,
I believed,
He lied,
He decieved.

The story repeats,
And once again one leaves,
Still that part that wants him,
Still that part that believes.

But i give it some time,
And soon I'll be numb again,
I will not care or worry,
About having to break promises now and then.

But why bother even keeping up,
If theres nothing for me to live for,
They all leave because I'm not enough,
They always want more.

Tears me up with silence,
Doesn't let me sleep at night,
Suicide and blood rush through my thoughts,
Nightmares that creep me out of sight.

Blanked out,
I'm gone now,
This time I'll leave,
I won't cry and think how.

I'll just walk away,
Give them it all too,
Silence, silent suicide,
No longer be the girl you know but the girl you knew.

What have I become,
Numb nature took it away,
But I still want more than anything,
For you to stay.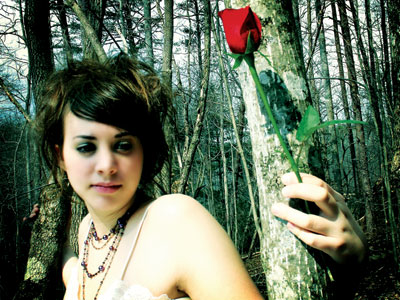 © Michelle B., Blairsville, GA