On This Cloud
July 13, 2011
When will these tears just cease to flow?
Up on my cloud; guess I'll never know.

My heart doesn't know exactly what to feel.
Is it joy? Peace? Is this heart even real?

I've seen many things; not all of them kind.
If I'm dealt too much more, I fear i'll lose my mind.

Hate, love; it's all starting to blend.
Confusion and emptiness could be my dreaded end.

If only there was one, the one that would spare
My delusional soul, and save me, but these are rare.

If only one jump wouldn't cause so much pain,
I'd abandon my cloud, in hopes of becoming sane.

Maybe one day my dream will come true...
But maybe, one day, you'll know this cloud too.

Irrational fear is over-coming sense,
But the time to decide is nearing, hence,

The choice to be made: to stay or to go?
No matter what happens, I already know

That I'm leaving this cloud;
And as I go, I think aloud:

"I bestow you this wish,
Since time here is lavish,

I wish you the best.
...And use some of you're time to rest."

Now I turn and let go;
Still afraid of the unknown.

I know this mighty drop won't last,
But still I hold myself steadfast.

More than anything, however,
I fear this more than ever:

Will that one, so rare, be there to catch me,
Or will I return to my cloud, never to be set free?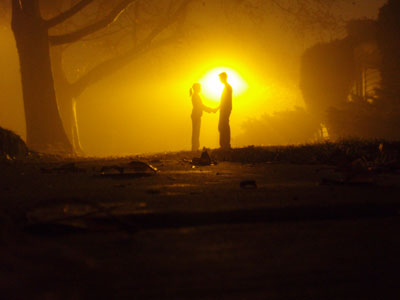 © Tanner H., Kaysville, UT