Restless Danger
July 4, 2011
The winds here are hot and restless.
The jet trails across the sky are nothing but trails,
fantastical tastes of lives we don't know.
The trains that course through the open night
have the loneliest call,
next to that of a wolf,
that I've ever heard.
We, too, are hot and restless.
We too are whispers of the lives we never knew but only imagined.
We are lonely.
Yes, we are lonely,
even on this loneliest of planets.
The windswept desert around us is nothing
to the desert we have become.
For we have become the desert.
Hot, restless deserts,
deserts stretching away towards the empty purple horizon,
and that is all.
You see, in woods back east there is always another bend to follow.
The twisting winding thick earthy paths of the eastern forests are mysteries.
Out here in the west,
there is nothing. No mystery. Only a dead flat certainty.
The desert is the desert, and that is that,
and that is all there will ever be.
You could follow the desert for weeks on end and it would never lead you anywhere.
It's funny, living so close to so great a danger and never knowing it was there till now.
We too are restless,
anxious to wander,
and that restlessness is our biggest danger
and our only hope,
like one lone star
shining down
upon our endless desert.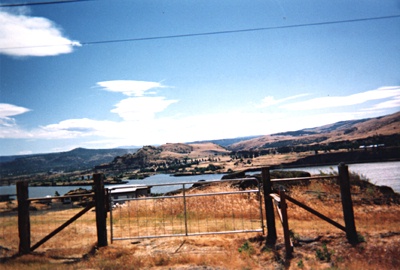 © Christine G., Port Hadlock, WA