The End of Paralysis
July 20, 2011
The rhymes to the ballad of our voices are forever ringing.
Tonight we are sleepless, we run with no direction.
We are the souls, traveling endlessly, hanging from the ends of trees.
The whispers of our voices stay soul shaking, swelling of peace, suffocating with passion.

The melody to the song of our feet pacing is always singing .
Tonight we are alive, we flow in the breeze with no conviction.
We are the rebels, running through the fields with cracks on our bodies.
The singing of the wind guides us, the breath of our words warm our cold numb fingertips.

The echo of our past isn't always heard, but it never stops repeating. Tonight we are unlimited, our souls dance with no restriction.
We are the light of the black night, the scent of hope.
The melody of brisk air pressing on our faces, pushing us farther away from reality, forcing our minds to circle lastingly.

If only life was ever so simple.

With changing contentment and shifting pain, we drag.
We rely on shadows, chasing us towards our limits. Drenched with sorrow, ripped from our hands.

I am a shattered glass in a reflection.
I keep floating, I suffocate.
I am a broken jewel
I keep walking, I break.
I see myself, the little ballerina on my Dad's shoulders
I watch, I burn.

Rooms are empty, but since when was I hollow?
People are strange, but since when was I the stranger?
Faces are faded, but since when was I colorless?
Hearts can be fixed, but since when was I broken?

We can run into corners and we can cry from open spaces.

But we never really move.

We swallow these days, until it hurts to breath. Our pain is just a simple compromise of twisted hearts, broken bones, and shattered minds.

The rhymes to the ballad of our regret is piercing.
Tonight we have insomnia, we run in terror. We are the twisted minds traveling.
We temporarily run away from our problems, until it bites us from the bottom and trails behind us forever.
The whispers of judgement and misconceptions haunt us, tasting like bitter ash.
They terrorize us, choke us with disbelief and doubt.

The tempo to the song of our fears following us is forever playing.
Tonight we are viciously awake. We flow with the cold screams of hate pushing us farther away from reality.
We are the misunderstood, running through a dark street, the ominous scent grabs us by our wrists and casts a spell.
The spiteful mutters of our past entices our souls.
Lacking endearment and sweet nothings, we marvel over sentiment and warmth.

Tonight we am an abstract image, the opposite of ideal.

Tomorrow we are a series of blurs, the epitome of strayed.

Next year we are all broken broken photos, with emptiness of black and white.

Forever we are lost and dazed.
Forever we are hopeful
Forever we swelling with rage, bulging of fear, rising into hope.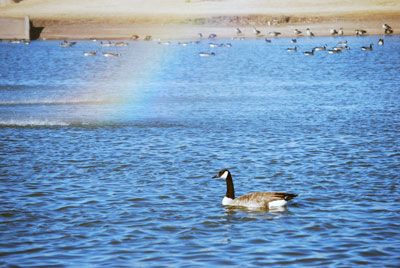 © Ashley N., Lubbock, TX