The Boy in the Ocean
July 31, 2011
Waves tumbling, he rides the sea
His movements are captivating, for I can't look away.
And as I watch from the sand, pretending to read,
He shakes out his hair and rides the whole day.

Why am I stranded on this island of fear?
Under my shades I look left and right,
I can't get to close; he might think I'm weird,
I wear these shades to conceal my eyes.

A body so tan, of muscles that swell,
He's what I'll be dreaming of tonight,
He's my little secret, I refuse to tell
I'm sure Mama won't think its right.

His footprints leave holes in the sand,
Soon enough we'll be back on the mainland
Summer is all about that boy in the sea,
He'll ride the current of your heart; he did it to me.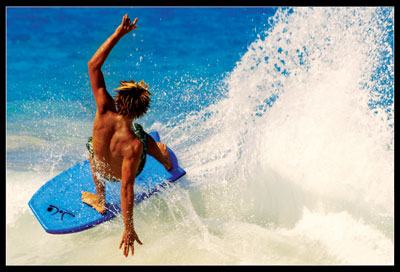 © Sarah L., Holualoa, HI