My Other Half
August 15, 2011
The days fly past
like birds outside my window.
Do they feel their lives
slipping by?
Do they molt their fledgling feathers
and think: that part of my life
is gone?
Do they mourn over these feathers;
mourn over that
which will never be again?
Or do they just
leave their worries with the wind,
fly with their instincts,
passing the same window
over and over again
but never looking back?

I feel time slipping by
watch the hours tick away
think: that didn't feel like an hour
a day a week a year.
The time has vanished.
But I know it's there.
Like warped mirrors, I know
my face is not that narrow
but my fingers fit around it.
Where did the other part
of my face go? It's just an
illusion. Or is it?
How do I know the difference
between real and illusion?
And I can't wrap my fingers
around time.

I study a balloon as it floats past
alone in someone's birthday party
I wonder, if someone popped it:
would it be a relief?
A sigh?
A release of pressure?
Or would it be
just a jab of pain then
nothing?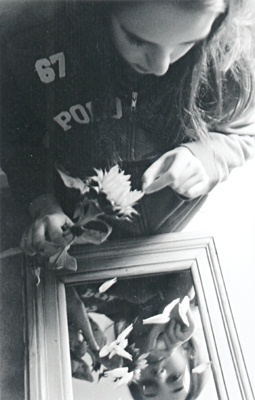 © Cerys W., Marblehead, MA