On Firm Land
August 17, 2011
There comes a time in everyones life
Where your faith is tried during a strife.
The words rang loud in my ears
and that night they brought me to tears.
"I have cancer," my dad told me
Trying too breath, I couldn't see
Why God would allow this to occur
The rest of the evening was completely a blur.
Did God really care?
Or was He too far up there,
To listen to my cries
Telling Him, I didn't want my daddy to die.
As the summer tore on,
O had to get used to my dad being gone.
When he left for the hospital in Houston,
He took a part of my heart with him.
Each day my trust in God
Became weaker and weaker until it was practically fraud.
How could God say He loved me,
Then turn His back away from me?
Every night, try as I might,
My pillow was soaked through
with tears that spoke the truth:
My life was a mess,
To this I can confess.
Then one day,
everything changed.
I finally realized
That in God my heart resides.
This belief gave me hope;
God gave me reason not to mope.
And I know that day when I gained faith
God healed my dad, He had no reason to wait.

Today I am faced
With a joy I can embrace:
That my dad will be waiting for me
Outside at three-thirty.

And when I go to bed tonight,
I know there won't be need for fright.
Because God holds me in His hand,
My life will always be on firm land.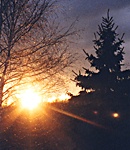 © Vhristy S., Germantown, NY