Fall Fever
September 26, 2011
First frost on the grass this morning.
I sip my iced coffee and let myself feel
The sudden chill of autumn.
It feels too soon, really; we just
Came off a stretch of beautiful weather
Too late for summer but too early for fall, so
What is with this fast transition?
I can already smell those distinctive autumn scents of
Leaf decay and crisp wind;
They billow through my car when I leave the windows
Down.
First frost on the grass this morning.
Really, I wish you could have seen the rime-tipped
Blades of sward with me.
I don't think we knew each other last year
When the grass was turning numb under that first thin layer of ice,
Or
At least
We didn't know each other then like we do now.
We could have shared it a year ago,
I suppose
But it wouldn't have been the same.
First frost a year ago wasn't as melancholy as it is
This year
Because now
You reside in the warmest part of my heart.
Your absence is as cold as the air
Into which escapes my breath; I can't
Help but wonder if you have the same air
Wherever you are,
If my frosty cold somehow travels the hundreds of miles
Through cities
And over oceans
And across lonely meadows
To curl past your nose and make you shiver.
I hope it does.
I hope you shiver when the
First frost blankets your world.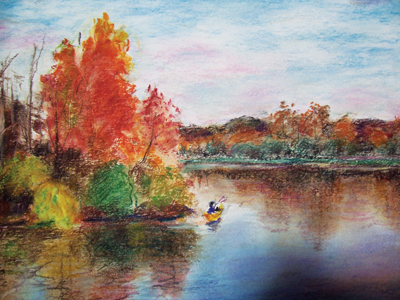 © Xiao H., Naperville, IL