Ladder
September 23, 2011
What happened to the smiles
Of only innocence not temptation
Of beating hearts and sparks
Of shy laughs and patience.
What happened to the waiting
The wanting, the missing, the hole.
What happened to the embarrassing moments
Where our hearts mistakenly tore.
What happened to the way you run
Your fingers through your hair.
What happened to you confidence,
The one you always wear
What happened to the way you joke
When you're around your friends.
What happened to your eyes that fluttered
When they met mine again
What happens to love when
It's been stretched too far?
When society's been changing it over and over
When love is instead a scar.
What happened to the simple emotions
The ones that were so hard to control.
The ones that pointed us to the truth
The truth that dumped us into a big black hole.
What happened to the fights
The ones that pulled them back together.
It's the people that keep on changing it
The ones who make it worse than better.
It's us that alters it into a deathmark
As if it's nothing but.
It's us that stereotypes
But it's love that seals the cut.
How long can passion last
When people change day to day?
How long can he hold her hand
Until she falls away?
How long can she kiss him
And ignore his obvious flaws?
How long can they go
Ignoring the love of laws?
I guess there isn't one
I guess it doesn't matter
But if my expectations are too high
Do I just give you a ladder?
Is love just dreams?
Of wants that we wish?
It's not you that makes me smile then
It's the latest dish.
I want you to lift me off the ground
To sing to me a love song
But I think I'm sick of the ordinary
Don't ever follow along.
I want to fall in love with YOU
The way you walk and talk
I want to know the character in you
I want your heart and mine to lock.
Don't promise yourself to be perfect
Because that's not what love's about
It's about looking past the imperfections
It's about walking confidently through the doubts.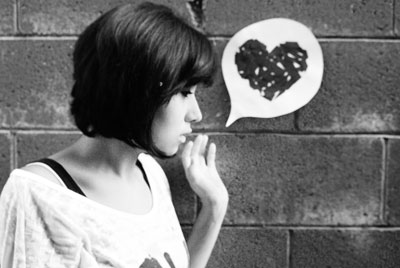 © Michelle B., West Covina, CA