LIKE A RIVER
October 2, 2011
I LIVE LIKE WATER
IN THE RIVER
I FLOW THROUGH MY LIFE
AND DEAL WITH EVERY OBSTACLE WHEN IT ARISES.
I NEVER KNOW WHICH PATH IM GOING TO TAKE
UNTIL IVE ALREADY TAKEN IT.
AS BUMPS IN THE ROAD COME ALONG
I SIMPLY FLOW AROUND
AND NEVER SLOW DOWN
SOMETIMES,
I GET ANGRY
AND AM A RAPID,
BUT USUALLY I'M A STREAM,
SOFT AND MELLOW
GENTLE AND SWEET
I TAKE CARE OF MY FISH
AND AM CAUTIOUS WITH MY RAFTERS
BUT TAKE NO INTEREST
IN THOSE PESKY FISHERMAN
WHO DUMP THEIR BOTTLES UPON MY BODY
AND CAST THEIR PAINFUL HOOKS
UPON MY FISH
I TAKE NO INTEREST IN THE RECKLESS
YOUNG LOVERS
WHO CAST THEMSELVES AWAY TO HIDE BEHIND MY FRIENDS THE BUSHES, AND WHO RUN THROUGH THE TREES.
I MAKE FRIENDS WITH THE CHILDREN WHO I PLAYFULLY WASH IN MY WAVES
WHILE THEY COME TO SWIM AND GIGGLE WITH ME
I JUST WISH I COULD BE
ONE OF THOSE CHILDREN,
THEIR SO FREE.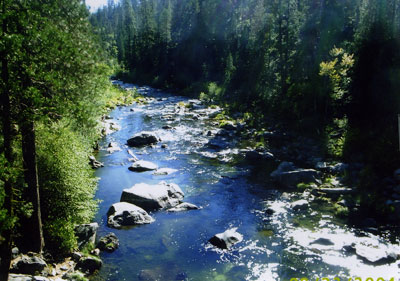 © Laycie C., Stockton, CA