Sixteen
October 15, 2011
This is the year
of sixteen.

We have grown this year.
We had first jobs

(cashiers at grocery stores)
first boyfriends

(not as cute as anticipated)
first dates

(set up like playdates)
first kisses

(underwhelming).

Fifteen was a year to settle in,
grow comfortable in our skins
and stretch them out to make room.
Now we are young and fragile and naked again,
ready to do things
that we don't know how to do.

16 is a year of new
and a year of stepping out
without knowing where you're stepping.
We don't speak about it,
but we acknowledge that all our futures
are chasms without bridges
across them
and we acknowledge all the mistakes
we will make and all the heartbreak
that will happen and all the boys
that will cause it and the one boy
who will be worth everything.

We have learned –
or we will learn, soon –
that not all things will work out,
and that the things that don't
will teach us to recognize
the things that do.

We reach out to each other

(now more than ever)
in an unconscious need to feel someone there,
grasping for a hand to steady us,
flailing in the dark like we are blind.

Sixteen is balancing somewhere, not knowing
where it's going, putting both hands out
to steady itself as it puts one foot
in front of the other
(all that we can do),
and somewhere,
finding the confidence to keep going.
This is the year
of bittersweet sixteen.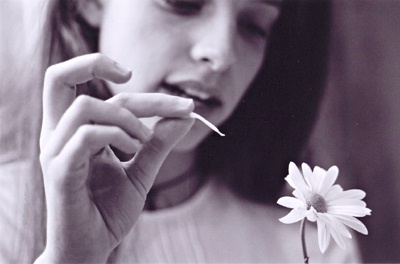 © Emily B., Houston, TX