Shut.
November 10, 2011
"Stop, look around, smell the roses" she was told.
So she paused and took a whiff.
All there was to smell was asphalt
All she could see were the cars,
Flying away into little black specks,
Wailing their highway song in a dizzying, discordant symphony.
They went screaming past her,
Carrying lost hopes, crushed dreams, closed doors.
Each one, speeding on, burnt a hole in her heart.
The wind raked through her hair, urging it to chase down every searing loss.
That's when she shut her eyes.
The pain subsided to a sedated, numbed throb.
The cacophonous orchestra was lulled back to sleep.
She'll go through life with her eyes shut always.
Shut tight against the pain.
Shut.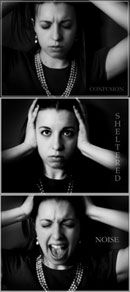 © Michelle B., Blairsville, GA