What Could Have Been
December 4, 2011
She lies on her bed,
studying for a test weeks away.
From one prominent rib,
to the next,
skin is stretched like a xylophone on her stomach.

Her radio clock glows a green 7:30.
Methodically she rises.
She walks up the carpeted stars to turn on the shower.
Warm rain awakens her, different from the constant chill.
As she scrubs her emaciated frame, self-doubt gnaws on her soul.

Now 16 years old,
she leaps and twirls, mirrors are her constant coach.
They scream at her.
They torture her.
They are unyielding in their criticism.
Feet thump against the polished floor and she does her best not to see.
But as she pirouettes, her sunken eyes can't ignore their draw.

Inner demons cry out,
like the piercing shriek of a wrong clarinet fingering,
"What must I be to please you?"
she asks, but she knows the answer.
Be nicer.
Be smarter.
Be skinnier.
Be Perfect.

This is all she knows.
This is all she hears.
Hiding in flowing waves of fabric brings peace,
the shrill RING! of the lunch bell brings terror.
And at 16
she pushes her peas around her plate like she did at six.




This game she plays,
herself and the voices in her head,
will never end. She will never win, never get bored.
For in this game, there is always room for improvement.

Now 17
she lies in the sterile white linens.
Hooked up to a machine that keeps a metronomic beat.
Her gaunt face no longer beautiful.
Her legs no longer able to support her ill body.
Still the demons cry out until they will never be heard again.

Be nicer.

Be smarter.

Be skinnier.

Be Perfect.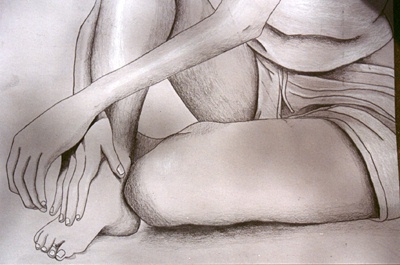 © Rebecca W., Kannapolis, MD