Dark forest
March 22, 2012
I walk down the dirt path towards the dark forest.
My head hidden in my hat and collar.
As i kept walking the sun beamed in my eyes.
I winced as I put on my sunglasses.

As i saw the darkness of the forest my eyes weren't stinging that much.
So i took off my glasses and walked into the darkness of the forest.

As i walked around in the dark forest looking left and right with my glowing red eyes.
Nothing I found nothing.
I saw sun my path was near and I didn't find him.

As I walked toward the exit something grabbed me by the neck and pushed me towards a tree.
I skidded across the hard field with twigs and wood chips.
As the thing grabbed me by the neck I opened my eyes.
It was a vampire but not the one that I need though.

I have no mercy for this guy.
I grabbed the things neck and squeezed it.
The thing screeched and let go of me.
I got up and drew my sword.

"Where is Prince James," I said holding the things neck.
The thing screeched and looked at me, "Prince James here."
"Where?" I said tightening my grip.
The thing whimpered and said, "Not here any… more"
"WHERE DID HE GO!" I yelled as I pointed my tip of my sword to the base of his back.
"Castle," The thing finally said.

I didn't smile I ran my sword through the thing and I didn't hear another breath.
I pulled my sword away and let the body drop.
I looked at my sword full of blood and licked it.
I shuttered of the taste of vampire blood and some of James blood.
James was near and he was going to be dead.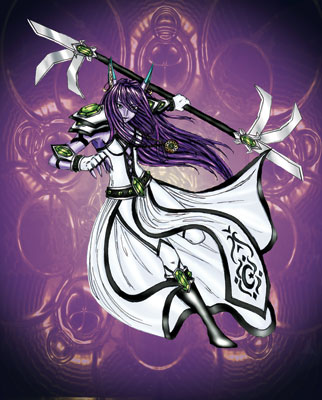 © Kelly K., Fort Collins, CO